High-Performance Wireless Measuring Instrument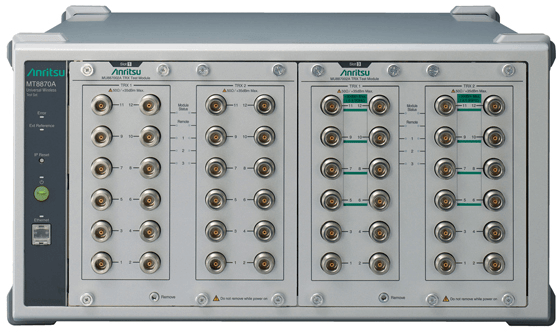 The MT8870A accommodates up to four TRX test modules in one main chassis for efficient calibration/verification and high productivity on busy production lines.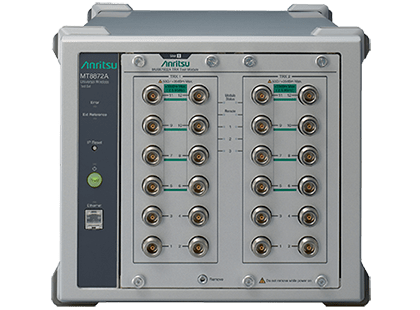 The space-saving MT8872A is fully compatible with the MT8870A but has been designed for use in tighter spaces than the standard 19-inch rackmount. It shares the same MU887002A TRX test modules and has 24 RF test ports for help in configuring high-density production lines.
Anritsu's MT8870A and MT8872A solutions support a customized choice of shared MU887000A/01A/02A TRX test modules matching the measurement objective.
01 Built-in Signal Generator and Signal Analyzer in Each Test Module – TRX test modules are developed for communication terminal device production lines. Each installed test module has an independent high-performance signal generator and signal analyzer.

02 Wide Bandwidth – The analysis bandwidth of the signal analyzer (SA) and modulation bandwidth of the signal generator (SG) in the MU887000A/01A is 160 MHz as standard, while that in the MU887002A is 200MHz.

03 Wide Frequency Range up to 6 GHz – The signal generator and signal analyzer in the MU887000A/01A have an upper-frequency limit of 3.8 GHz as standard, but this can be extended to 6 GHz as an option.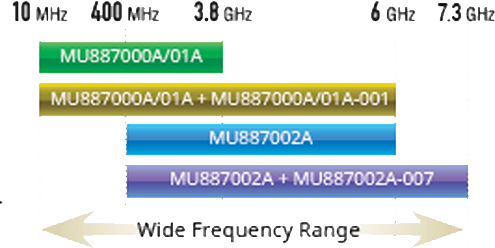 04 Each Test Module Supports Multiple Wireless Standards – One MU88700xA supports multiple wireless communication standards.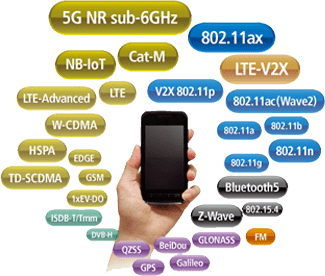 Browse Anritsu Telecommunications Solutions