Indoor Wi-Fi 6 (802.11ax) Access Point for Ultra-Dense Environments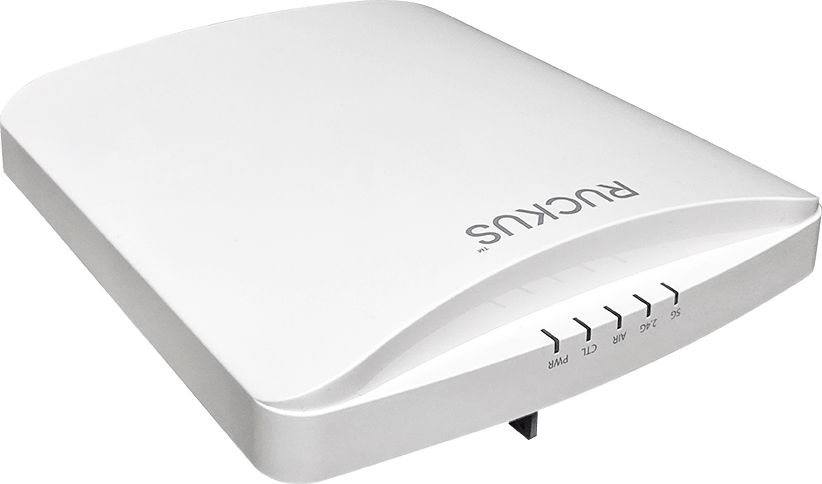 The R750 is the first Wi-Fi 6 AP to be certified by Wi-Fi Alliance as Wi-Fi CERTIFIED 6.
As part of the Wi-Fi Alliance testbed, the R750 validates other devices for Wi-Fi CERTIFIED 6 interoperability.
Connect more devices simultaneously
Improve device performance, by enabling more simultaneous device connections with built-in 8 spatial streams (4×4:4 in 5GHz, 4×4:4 in 2.4GHz), MU-MIMO, and OFDMA technology.
Multiple management options
Manage the R750 with on-premise physical/ virtual appliances and control auto-provisioning for faster deployment and seamless firmware upgrades.
Provides exceptional end-user experience within large meeting halls, general enterprise spaces, and large classrooms with the RUCKUS Ultra-High-Density Technology Suite.
The latest Wi-Fi security standard with WPA3 and receive enhanced protection from man-in-the-middle attacks in the most secure way.
Allows customers to eliminate siloed networks and unify WiFi and non-WiFi wireless technologies into one single network by using built-in BLE and Zigbee, and also expanding to any future wireless technologies through the USB port.
Support services beyond Wi-Fi with RUCKUS IoT Suite, Cloudpath® security and onboarding software, SPoT Wi-Fi locationing engine, and SCI network analytics.
Multigigabit access speeds
Optimized multi-gigabit Wi-Fi performance delivered using the built-in 2.5GbE port to connect to multi-gigabit switches.
The R750 is based on the latest Wi-Fi 6 standard and bridges the performance gap from 'gigabit' Wi-Fi to 'multi-gigabit' Wi-Fi in support of insatiable demand for better and faster Wi-Fi.

Browse Ruckus Networks Solutions