High Performance, Stackable Switches
Aruba Instant On's new 1960 Switch Series expands the Instant On wired portfolio to offer Class 4 and Class 6 PoE support, 10GbE uplink connectivity, stacking capabilities, and flexible management. The unified, cloud-based management solution scales across wired and wireless platforms. It packs a punch with easy-to-use, business-grade features coupled with robust network management capabilities.
What makes the 1960 Switch Series stand out is its ability to connect with other switches on a given network and operate together as a single unit, a capability known as "stacking." This offers small business owners more ports and expands network capacity.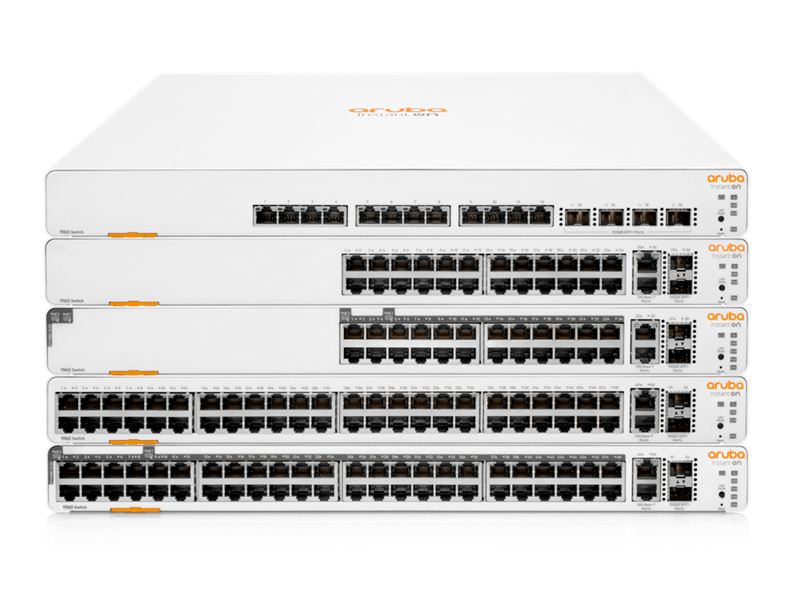 The Aruba Instant On 1960 Switch Series is an advanced, smart-managed, stackable switch solution with the following key features:
• Two (2) 24- port and two (2) 48-port models in PoE and Non-PoE configurations and a 12 port 10-Gigabit aggregation switch (available in all 5 SKU's).
• Access switches come with two (2) 10GBASE-T and two (2) 10G SFP+ uplink ports for reliable connectivity to servers and network storage devices.
• Aggregation switch comes with twelve (12) 10G Base-T and four (4) SFP+ ports providing 10G connectivity to servers and network storage devices while offering connectivity to access switches.
• PoE models — up to 30W PoE power delivery is available for Class 4 PoE devices like access points, and up to 60W PoE power delivery is available for Class 6 PoE devices such as pan-tilt-zoom cameras.
• The 24-port and 48-port PoE models come with a power budget of 370W and 600W respectively to support the latest IoT devices.

Set Up your Switches in Minutes
Get step-by-step guidance via the Aruba Instant On mobile app.

Manage It Anytime, Anywhere
Monitor and manage performance with the Aruba Instant On mobile app or cloud-based web portal.

Connect and Power High-Bandwidth Devices Through One Cable
Save time and money and get the flexibility you crave with Power over Ethernet (Class 4 and Class 6 PoE) technology.

Secure your Data and Information
Keep your business safe with ever-evolving security measures and protocols.

Stack Up to Four Switches
Stackable switches allow you to scale as your business grows. Auto failover creates a safety net so that if one switch in the stack fails, all other switches will be intact.
A SWITCH FOR BUSINESS GROWTH
When deployed with Aruba Instant On APs, the 1960 Switch Series delivers a complete wired and wireless networking solution, all centrally managed through the Instant On mobile app — allowing small businesses to not only optimize their network investment today but also to prepare for future growth.
With Instant On, small businesses now have the simplicity, security, and intelligence they need to grow and thrive. Browse Aruba Networks Solutions